Opens Saturday, June 19, 11 AM ET
Closes Sunday, June 27, 6 PM ET
Online Auction Hosted by
Waddington's Auctioneers
Register to Bid
Auction Terms & Conditions differ from those of our auction host, Waddington's.

C Magazine
will invoice the buyer directly by 30 June 2021, at the email they register with. A 5% premium is added to your invoice. No HST or other sales tax is applicable. Buyers are responsible for shipping or delivery costs. Artwork is located in Toronto, unless otherwise noted. C Magazine will provide Fedex or Canada Post quotes on request, and Museumpros can provide art shipping quotes. Deliveries and pickups will be available starting July 5th.
The
17th Annual C Magazine Contemporary Art Auction
features artworks generously donated by artists whose work reflects
C Magazine's
mandate to provide a vital international forum devoted to the advancement of conversations in contemporary art, led by Canadians. Funds raised at the C Magazine Contemporary Art Auction will directly support the publication of
C Magazine
and its public programs.
C Magazine
commissions more than 120 artists, writers and thinkers each year, and presents the work of hundreds more.
With work by
Derya Akay, Jaime Angelopoulos, Robin Arseneault, Karen Asher, Shuvinai Ashoona, Karen Azoulay, Dean Baldwin Lew, Daniel Barrow, Maya Beaudry, Vida Beyer, Alex Bierk, Anna Binta Diallo, Alyssa Bistonath, Mike Bourscheid, Annie Briard, Adam David Brown, Maryanne Casasanta, Melanie Colosimo, Steven Cottingham, Javiera da Fonseca, Gabi Dao, Sarah Davidson, Marie Michelle Deschamps, Katherine Duclos, Mark Dudiak, Simon Fuh, James Gardner, Sky Glabush, Kara Hamilton, Faye HeavyShield, Oliver Husain, Jay Isaac, Paul Kajander, Tiziana La Melia, Kristiina Lahde, Maryse Larivière, Arvo Leo, Micah Lexier, Derek Liddington, Morris Lum, John Monteith, Lindsay Montgomery, Philip Leonard Ocampo, Sophia Oppel, Alison Postma, Meghan Price, Shakeel Rehemtulla, Miles Rufelds, Vicky Sabourin, Mia Sandhu, Callum Schuster, Joshua Schwebel, Shaan Syed, Eve Tagny, Catherine Telford Keogh, Larissa Tiggelers, Tristan Unrau, Marjan Verstappen, Josh Vettivelu, Holly Ward, Emma Welch, Janet Werner, Jacob Whibley, Naomi Yasui, Florence Yee, Z'otz* Collective, Michael Zahn and Shellie Zhaang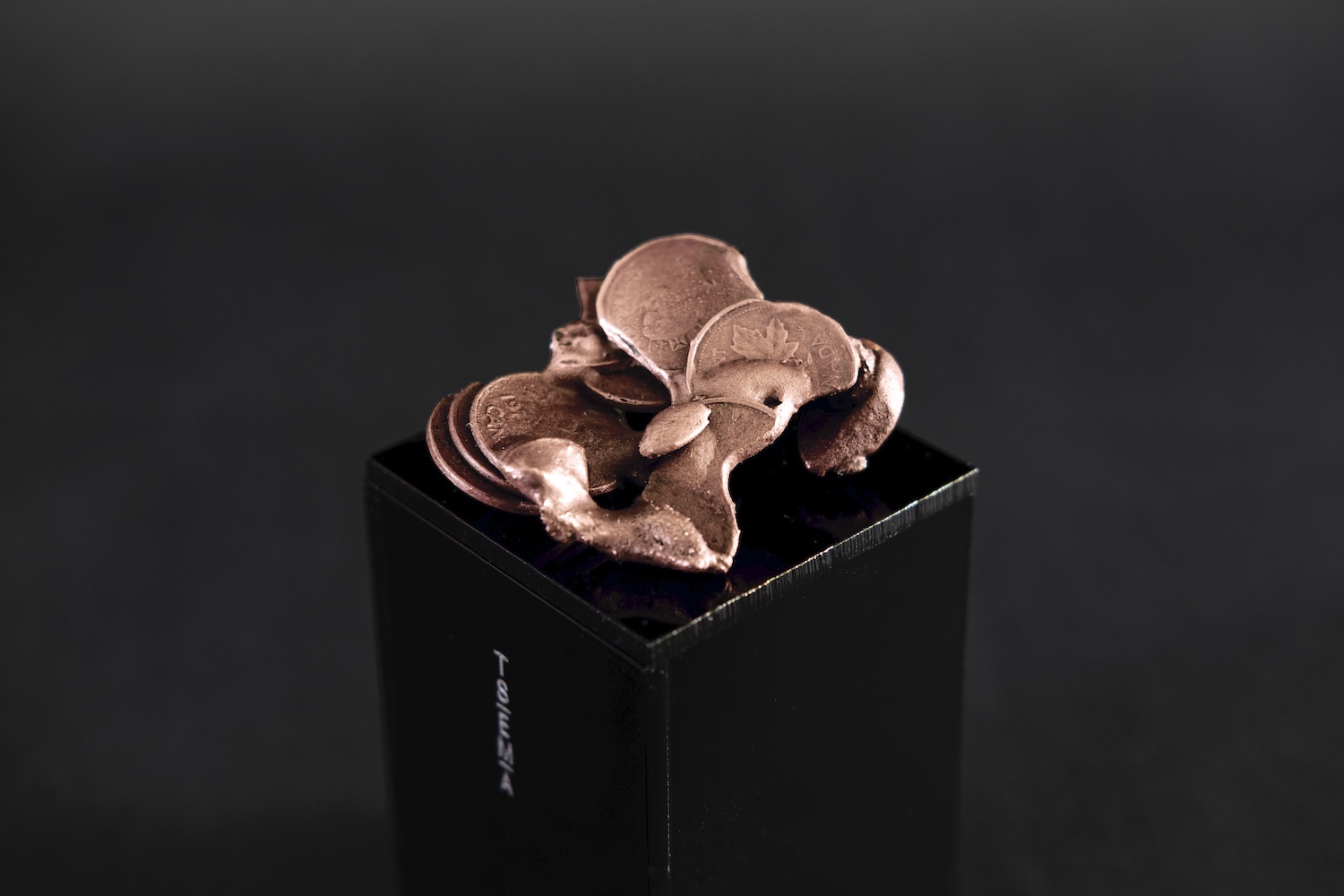 Ts̱ēmā
What is Left

2021
Canadian pennies
2 × 3 × 2"
Edition of 50, varied
The Gattuso Edition, What is Left
by Ts̱ēmā
is a cluster of Canada's now-defunct 1¢ copper coins, melted to their core material—and burnished by hand. Resembling naturally occurring copper nuggets, the transformation of the metal to its natural state and away from its use as a colonial currency reconnects the ore to its source in the land. The Gattuso Edition is generously supported by
La Fondation Emmanuelle Gattuso.
Ts̱ēmā
is an interdisciplinary artist and a member of the Tahltan First Nation. She uses potlatch methodology to create conceptual artwork and teachings influenced by her mentorship in Northwest Coast formline design at K'saan (2005-06), her studies in visual culture, and her lived experiences in the mountains. She has degrees from Emily Carr University of Art and Design and OCAD University, and has exhibited and performed in varied contexts in Canada including the 2016 and 2018 Montreal Contemporary Native Art Biennial, as well as internationally in Mexico, the USA, Sweden, and Chile. Ts̱ēmā was long-listed for the Sobey Art Award in 2020.
tsema.ca
This year's auction is presented with the generous support of La Fondation Emmanuelle Gattuso for the Gattuso Edition, online auction sponsor
Waddington's Auctioneers
, framing
Superframe
, storage and delivery
Museumpros Art Services
, printing and mounting
Smokestack
,
Griffin Art Delivery
, fine art printing
Imagefoundry
.
Please consider making a
donation
instead of our usual event ticket.
Charitable tax receipts are issued for donations and auction art purchases in excess of their market value by C The Visual Arts Foundation (charitable no. 88643 1162). Participating artists will also receive a portion of the sales.
Please review the full Terms & Conditions
Questions?
Contact
auction@cmagazine.com
C Magazine is an international art quarterly devoted to promoting critical discussion about contemporary art. C Magazine is published by C The Visual Arts Foundation, a registered charitable organization established to present ideas, advance education and document contemporary visual art and artist culture. C acknowledges the financial support of the Government of Canada, the Canada Council for the Arts and the Ontario Arts Council.
Visit
cmagazine.com
to learn more and read the publication.