Tuesday April 23
6:00 pm Preview doors open
7:30 pm Live Auction
9:30 pm DJ Luis Jacob
Tickets are sold out
Museum of Contemporary Art Toronto
158 Sterling Rd, Toronto
An accessible space
The first 25 ticket purchasers, plus an additional 5 selected by draw during the auction, receive the
Gattuso Edition Pet rock by Vanessa Maltese,
a hand-patinated and painted bronze sculpture cast from a found stone. Generously supported by
The
15th Annual C Magazine Contemporary Art Auction
includes more than 50 artworks generously donated by artists whose work reflects
C Magazine
's mandate to advance our understanding of important ideas and practices in contemporary art. Funds raised at the auction will sustain a vital international forum for important conversations on art, led by talented Canadian writers and artists.
On
Tuesday, April 23rd
come support
C Magazine
at our annual fundraising auction of Canadian and international contemporary art at the
Museum of Contemporary Art Toronto
, with the support of our Artist's Sponsor the Kavelman-Fonn Foundation, Auctioneer services provided by
Perry Tung
courtesy of
Bonhams Canada
, art framing by
Superframe
and DJ
Luis Jacob
.
Complimentary
catering, host bar and a subscription to C Magazine are also included.
With work by Barry Ace, Lorna Bauer, Irene Bindi, Shannon Bool, Amanda Boulos, Mike Bourscheid, Sandra Brewster, Jennifer Carvalho, Patrick Cruz, Sarah Davidson, Erika DeFreitas, Chloë Lum & Yannick Desranleau, Myriam Dion, Emily Vey Duke &, Cooper Battersby, André Ethier, Liza Eurich, FASTWÜRMS, Mark Ferkul, Laura Findlay, Kaley Flowers, Nika Fontaine, Ben Freedman, Nadia Gohar, Mike Goldby, Angela Grauerholz, Destiny Grimm, Jessica Groome, Randy Grskovic, Iris Häussler, Colleen Heslin, Qendrim Hoti, Jeremy Jansen, Daniel Langevin, Ness Lee, Ginette Legaré, Micah Lexier, An Te Liu, Annie MacDonell, Niall McClelland, Abby McGuane, John Monteith, Kim Neudorf, Public Studio, Shakeel Rehemtulla, Jasmine Reimer, Brian Rideout, Jon Sasaki, Callum Schuster, Lou Sheppard, Sean Ross Stewart, Beth Stuart, Joani Tremblay, Renée Van Halm, Jim Verburg, Joy Walker and Kendra Yee.
Funds raised at the C Magazine Auction directly support the publication of C Magazine and the presentation of related educational programming. C Magazine commisions art writing and projects from more than 100 contributors each year, presenting the work of hundreds of artists, curators and art professionals.
Questions? Contact
Kate Monro, Publisher
info@cmagazine.com
Acknowledgements


Supporters
We are grateful for the support of the artists and their respective galleries, C Magazine readers and auction patrons, volunteers, and interns.

Supporting Donors
Peter Goring
Joyce + Alec Monro
Julia + Gilles Ouellette

Auction Co-Chairs
Fraser Serles, Rebecca Travis

Auction Advisory Committee
Cynthia Ablos, Xenia Benivolski, Karie Liao, Katie Lyle, Christina De Marchi, Rick Hiebert, Kate Monro, Deanne Moser, Michael Prokopow, Susannah Rosenstock, Stacey Sharpe, Rebecca Travis, Carlos Yep

Auction Art Selection Committee
Jaclyn Bruneau, Karie Liao, Frances Loeffler, Katie Lyle, Kate Kolberg, Michael Prokopow, Fraser Serles, Evelyn Salvarinas, Rebecca Travis

Auction Event Manager
Kate Kolberg

Auction Interns
Lucas Regazzi, Miranda Szuberwood

Auction Catalogue
Raf Rennie Designer

C Magazine Staff
Kari Cwynar Editorial Director
Jaclyn Bruneau Editor
Kate Monro Publisher
Raf Rennie Designer

C The Visual Arts Foundation
Kate Monro Executive Director

Board of Directors
Gesta Abols, Christina De Marchi, Karie Liao, Frances Loeffler, Katie Lyle, Michael Prokopow, Evelyn Salvarinas, Fraser Serles, Rebecca Travis, Annie Wong, Vicky Wong

This year's auction is presented with the generous support of La Fondation Emmanuelle Gattuso, The Kavelman-Fonn Foundation, our in-kind sponsors AXA Art Insurance, Bonhams Canada, Chair-man Mills, Henderson's Brewing Co., the Museum of Contemporary Art Toronto, Maker Technical Sculpture Services, Museumpros Art Services, Sonic Print, and Toronto Image Works. We are also grateful to our Supporting Donors-to-date Peter Goring, Joyce + Alec Monro, Julia + Gilles Ouellette-and the donating artists and their respective galleries, as well as our auction patrons and volunteers.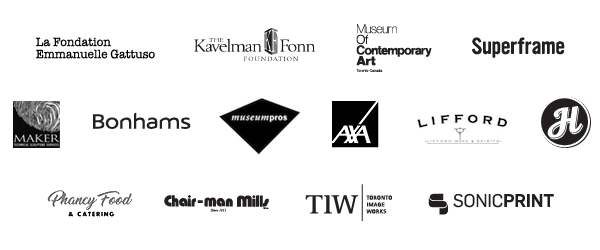 C Magazine is an international art quarterly devoted to promoting critical discussion about contemporary art. C Magazine is published by C The Visual Arts Foundation, a registered charitable organization established to present ideas, advance education and document contemporary visual art and artist culture. C acknowledges the financial support of the Government of Canada, the Canada Council for the Arts and the Ontario Arts Council. Support C Magazine by making a donation at canadahelps.org. Charitable no. 88643 1162



Charitable donation receipts will be issued by C The Visual Arts Foundation to purchasers who bid in excess of the estimated value, and participating artists will also receive a portion of the sales.