Gattuso Edition
Rag bag, 2020

Anne Low
Rag bag
is a daisy-shaped extruded stump made out of walnut that comes out of the wall on an angle. Nailed on to the end of the daisy are layers of hand woven and hand dyed silk and stamped paper. These layers are from Low's archive of cloth and paper from previous artworks. The Gattuso Edition is generously supported by La Fondation Emmanuelle Gattuso
Rag bag
2020
Hand woven and hand dyed silk, ink on rice paper, copper, walnut
4" × 4.5" × 2"
Edition of 50, varied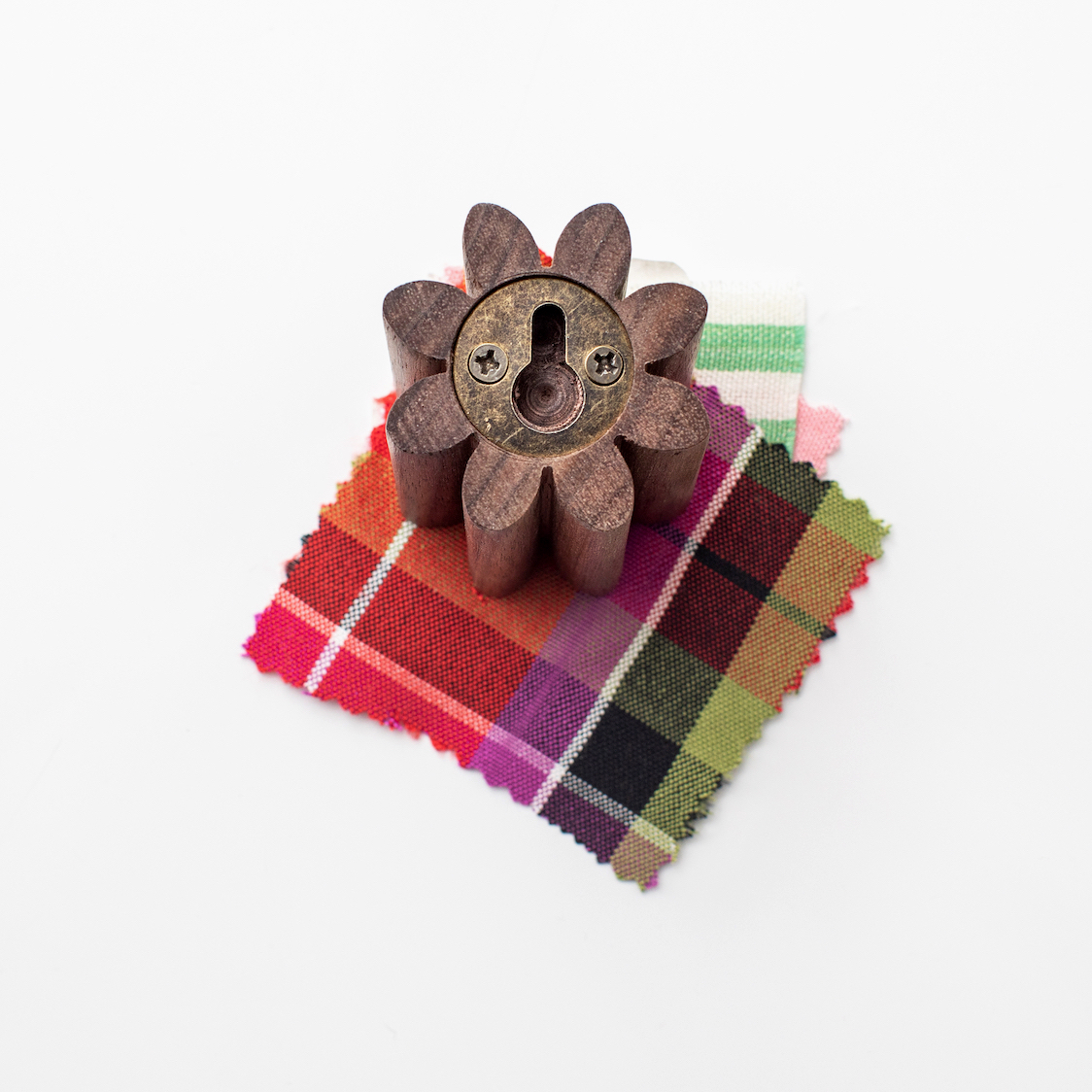 Anne Low is based in Montréal, Canada. Her practice includes sculpture, installation, textiles and printmaking to investigate how particular expressive forms are able to unhinge themselves from historical contingency and speak to contemporary subjects such as the domestic, the decorative, utility and taste. Her works speak to wider narratives around the impulse to individuate object and self and how the impulse to decorate is a desire that extends through history. Recent solo exhibitions include
Bletting,
Franz Kaka, Toronto (2019),
Chair for a woman,
Contemporary Art Gallery, Vancouver (2019),
Paperstainer,
Mercer Union, Toronto (2018);
A wall as a table with candlestick legs,
Tensta Konstall, Stockholm (2018) and
Witch with Comb,
Artspeak, Vancouver (2017). Recent group exhibitions include Art Encounters Biennial, Timisoara (2019), Sobey Art Award, Art Gallery of Alberta, Edmonton (2019);
Soon Enough – Art in Action,
Tensta Konsthall, Stockholm (2018);
Separation Penetrates,
Mercer Union, Toronto (2017);
Dream Islands,
Nanaimo Art Gallery (2017);
Ambivalent Pleasures,
Vancouver Art Gallery (2016) and
Reading the Line,
The Western Front, Vancouver (2015). Her collaboration with Evan Calder Williams,
The Fine Line of Deviation,
has been exhibited at Mercer Union, Toronto (2018) and Issue Project Room, New York (2016). Low was a finalist in the 2019 Sobey Art Award.
annelow.ca
The first 15 bidders in the auction will receive the Gattuso Edition. Early bidders help support the artists and champion C Magazine!


Register to Bid

onlineauctions.waddingtons.ca
Bidding Opens June 3 at 6pm EST
Preview Catalogue
auction.cmagazine.com
The 16th Annual C Magazine Contemporary Art Auction, and online auction, is sponsored by Waddington's Auctioneers and Appraisers with framing by Superframe.
Please note that the edition is no longer available with donations. Thank you sincerely to everyone who donated. Donors will now receive a complimentary ticket to the next live C Magazine auction, plus a subscription to
C Magazine
.
Questions? Please contact Kate
auction@cmagazine.com